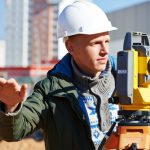 Infrastructure development is a crucial component of any growing economy. From building roads and bridges to constructing buildings and utilities, the development of quality infrastructure plays a vital role in the progress of a nation. A key aspect of infrastructure development is land surveying, which is the process of mapping and measuring land and its features. In this blog, we will explore the important role that land surveying plays in infrastructure development.
Planning and Designing
Before any infrastructure project can begin, careful planning and designing are essential. Land surveying plays a crucial role in this stage by providing accurate information about the site. Surveyors gather data about the topography, boundaries, and other relevant features of the land. This information is then used by architects, engineers, and other professionals to plan and design the infrastructure project.
Site Preparation
Once the planning and designing stage is complete, the next step is site preparation. Land surveying helps in identifying any potential obstacles or challenges that may need to be addressed before construction can begin. Surveyors can accurately map out any existing structures, underground utilities, or natural landmarks that may impact the construction process. This information enables construction teams to prepare the site effectively and minimize any potential disruptions during the construction phase.
Boundary Determination
Boundary determination is an important aspect of land surveying in infrastructure development. Accurate mapping and measurement of boundaries are crucial to prevent any legal issues and ensure compliance with property rights. Land surveyors use various techniques, such as Global Positioning System (GPS) and Total Station, to accurately determine and mark the boundaries of the land. This information is then used in the legal documentation and contracts associated with the infrastructure project.
Control and Alignment
To ensure the successful execution of an infrastructure project, precise control and alignment are crucial. Land surveyors play a key role in establishing control points and benchmarks, which serve as reference points for the construction process. These control points help ensure that all elements of the infrastructure project are correctly aligned, from the initial excavation to the final placement of structures. This precision is important to maintain the integrity and functionality of the infrastructure being developed.
Quantity Estimation and Earthworks
Land surveying also plays a role in quantity estimation and earthworks during infrastructure development. Surveyors accurately measure and calculate the quantities of materials, such as soil, rock, or concrete, required for the construction process. This information helps in planning and managing the logistics of the project, including the procurement and distribution of materials. Surveyors also play a role in earthworks, ensuring that the land is properly leveled or graded as per the project's requirements.
Monitoring and Quality Control
Throughout the construction process, land surveyors are involved in monitoring and quality control activities. They regularly visit the site to verify that the infrastructure project is proceeding according to the plans and specifications. Surveyors inspect the construction, measure critical parameters, and compare the actual progress with the projected milestones. This monitoring helps identify any deviations or issues that need to be addressed in a timely manner, ensuring the quality and integrity of the infrastructure being developed.
As-Built Surveys
After the completion of an infrastructure project, land surveyors conduct as-built surveys to accurately document and record the final state of the constructed facilities. These surveys provide valuable data that can be used for future maintenance, renovations, or expansions. As-built surveys also help in resolving any disputes or discrepancies that may arise regarding the construction process or the specifications of the infrastructure project.
Environmental Impact Assessment
In today's world, environmental sustainability is an important consideration in infrastructure development. Land surveyors play a role in conducting environmental impact assessments for infrastructure projects. They collect data related to flora, fauna, natural resources, and other environmental factors present in the project area. This information is then used to assess the potential impact of the infrastructure project on the environment and implement measures to minimize any negative effects.
Summary
Land surveying plays a crucial role in infrastructure development. From the initial planning and designing stage to the final as-built surveys, land surveyors provide valuable data and information that are essential for the successful execution of infrastructure projects. Their expertise in mapping, measurement, and analysis ensures that the infrastructure is constructed accurately, adhering to legal boundaries and specifications. By incorporating land surveying into the development process, infrastructure projects can be executed smoothly, efficiently, and with environmental sustainability in mind.
Need a Civil Engineering Company in Nampa, ID?
Our company has experience in all aspects of surveying, including topographic and boundary measurements, construction staking projects, sub division platting, and land development. We perform all stages of the work, starting with the initial survey before having experienced engineers come in for the preliminary and final stages of planning. Then, we'll perform the construction staking, and do the final record drawings for projects. We know our success is linked to the success of our client's project. We will work with you to define the scope of services and set an agreed-upon budget. Call us today!