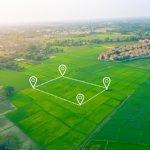 Land surveying is an essential process that has been used for centuries to map and measure land parcels. Traditionally, land surveyors would use manual tools and take time-consuming measurements in the field. However, with advancements in technology, the introduction of aerial mapping technology has revolutionized the way land surveying is done. This innovative technology has brought about efficiency, accuracy, and new possibilities in the field of land surveying. Let's delve into how aerial mapping technology is transforming the industry.
1. Introduction to Aerial Mapping Technology:
Aerial mapping technology involves the use of unmanned aerial vehicles, commonly known as drones, equipped with high-resolution cameras and sensors. These drones are flown over the area of interest, capturing detailed images and data. The images are then processed using powerful software to create accurate maps and models. This technology provides a faster and more cost-effective approach to land surveying compared to traditional methods.
2. Increased Efficiency and Speed:
One of the major advantages of aerial mapping technology in land surveying is the increased efficiency and speed it offers. Drones can cover large areas in a fraction of the time it would take using traditional surveying methods. This significantly reduces the time spent in the field and enables surveyors to gather data more quickly. The quick turnaround time allows for faster decision-making and project planning.
3. Improved Accuracy and Precision:
Aerial mapping technology has greatly improved the accuracy and precision of land surveying. Advanced software can stitch together thousands of images captured by drones to create precise and detailed maps. The use of GPS technology on drones ensures accurate positioning and allows surveyors to locate specific points with high precision. The high-resolution imagery and data collected by drones provide a comprehensive view of the land, enabling surveyors to make more informed decisions.
4. Cost-Effectiveness:
Aerial mapping technology offers cost-effective solutions for land surveying projects. Traditional surveying methods often require a large team of surveyors and expensive equipment. With drones, fewer personnel are needed in the field, reducing labor costs. Additionally, the use of drones eliminates the need for expensive specialized equipment, such as total stations and theodolites. This makes land surveying more accessible to a wider range of clients and allows for more frequent surveys to monitor changes over time.
5. Enhanced Safety:
Traditional land surveying often involves working in hazardous or hard-to-reach areas, such as steep slopes or construction sites. Aerial mapping technology eliminates the need for surveyors to physically access these areas, reducing the risk of accidents and injuries. Drones can access difficult terrain, capture images, and gather data without endangering human lives. This enhances overall safety measures and minimizes liability for both surveyors and clients.
6. Environmental Benefits:
Aerial mapping technology is also environmentally friendly compared to traditional land surveying methods. With drones, there is no need to clear vegetation or disrupt habitats to access the land. The low-altitude flight and quiet operation of drones have minimal impact on wildlife and ecosystems. This eco-friendly approach aligns with sustainability goals and reduces the environmental footprint associated with land surveying projects.
7. Expanded Applications:
Aerial mapping technology has expanded the applications of land surveying beyond traditional boundaries. The detailed maps and models created by drones can be used in various industries like urban planning, construction, agriculture, and infrastructure development. Surveyors can extract data for contour mapping, 3D modeling, volumetric calculations, and aerial inspections. This versatility opens up new opportunities and possibilities for land surveyors to offer valuable services to a wider range of clients.
Summary
Aerial mapping technology has revolutionized the field of land surveying. This innovative technology offers increased efficiency, accuracy, and cost-effectiveness. Surveyors can gather data more quickly, make informed decisions, and plan projects more efficiently. The use of drones improves safety, reduces the environmental impact, and expands the applications of land surveying. With the continuous advancement of aerial mapping technology, the future of land surveying looks promising, transforming the way we map and measure the world around us.
Need a Civil Engineering Company in Nampa, ID?
Our company has experience in all aspects of surveying, including topographic and boundary measurements, construction staking projects, sub division platting, and land development. We perform all stages of the work, starting with the initial survey before having experienced engineers come in for the preliminary and final stages of planning. Then, we'll perform the construction staking, and do the final record drawings for projects. We know our success is linked to the success of our client's project. We will work with you to define the scope of services and set an agreed-upon budget. Call us today!